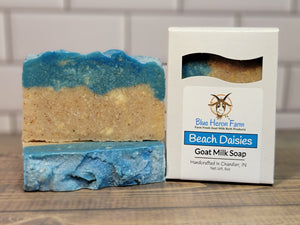 This all-natural Goat Milk Soap is absolutely loaded with our fresh goat milk. It suds up to a rich, creamy lather that cleans, moisturizes, and leaves your skin feeling soft and nourished.
BEACH DAISIES- Sweep yourself away to the beach where you will smell the aromas of fresh spring flowers and green grass while walking on the warm sands.

===FEATURES===
* Goat Milk is very gentle and is packed with vitamins that our skin needs.
* Our Goat Milk Soap is perfect for your face, hands, and whole body.
* All-natural and paraben free.
* Handcrafted in small batches on our farm with fresh milk from our own herd of goats.
===DETAILS===
INGREDIENTS- Goat Milk, Olive Oil, Lard, Coconut Oil, Sodium Hydroxide, Castor Oil, Shea Butter, Sunflower Oil, Fragrance, Mica, Ground Walnut Shells

This listing is for one 5oz bar of Beach Daisies Goat Milk Soap packaged in a kraft box.
CARING FOR HANDCRAFTED SOAP- Our handcrafted soap is loaded with wonderful oils and milk. We never add any chemical hardeners. We recommend allowing your soap to thoroughly dry between uses by using a soap dish or rack. Doing so will extend the life of your soap.
===SHIPPING AND PRODUCTION TIMES===
All of our Goat Milk Bath Products are made in small batches fresh for your order. Please allow 2-5 business days before your order ships. Shipping delays will be noted on the homepage and on the top banner.